14 Reasons Why You Should Have Our Polyester Singlets
Polyester materials are a great choice of fabric for sporting and outdoor use. It is a strong fiber that is hydrophobic to nature - ideal for wet and damp environments (perfect for sporting occasions). Not only is polyester used in gym clothing like our 'polyester singlets' but are also used in other day to day clothing. For example, shirts, skirts, pants, underwear and suits. Why? Because polyester provides many things other fabrics/materials don't.
Our 'polyester singlets' are a fantastic choice when wanting to hit the gym, go for a run, go fishing or wanting to go for a bike ride. These singlets are comfortable and allow you to breathe easy no matter what you do. Our clients love ordering our 'polyester singlets' because they are
Resistant to ripping
Soft feel
Light in weight
Exceptional durability
Shiny look
Stretch to fit
Dries quick - wash and wear in not time
Resistant to fading
Great breathability
Ability to help keep you dry
Absorbent
Resistant to abrasion
Wrinkle resistant
Stain resistant
Polyester singlets are definitely the #1 choice for gym wear. Our clients order these singlets as
gym start up kits (for members who join their gym)
schools (sporting event uniforms)
hotels who provide gym areas for their hotel guests to enjoy (complimentary gift)
and many other companies who want to showcase their brand by using our polyester singlets as promotional gifts.
Our polyester singlets can be customised to fit your corporate identity on either the front or the back for maximum exposure of your company. It is a fantastic way to display your brand, especially on our great polyester singlets! Order in bulk units now, you wont regret it.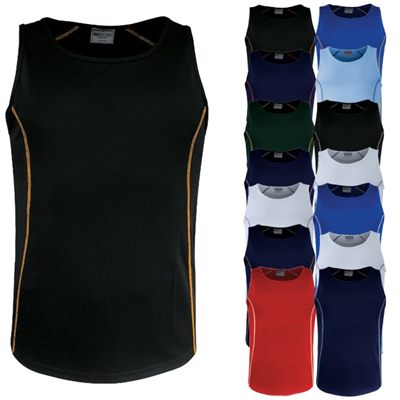 *prices are subject to change at any time*
25 June, 2015
The Promotional Clothing Team