About Us
Our Promotional Clothing website has everything you need in custom shirts and other types of corporate apparel. We've been dealing in custom shirts and uniforms for over 10 years and have a wealth of experience in matching your company shirt needs to the right product. You'll find everything from basic cheap white t shirts through to executive mens business shirts. Our range of promotional t shirts has to be seen to be believed with over 150 styles of womens and mens t shirts on display.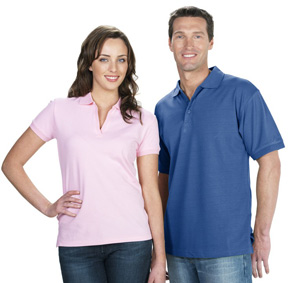 Huge ranges of solid coloured t shirts including a bright orange or the ever popular black t shirt are all available here.
Colder winter months we have a terrific range of personalised jackets including mens jackets and casual womens jackets. If you are working on a building site we've got hi vis jackets to keep you warm or for the heavy duty stuff we've got tough waterproof jackets as well.
Corporate polo shirts are supplied by many different factories and we've got all types of material to choose from. You have mens polo shirts in pure cotton or you can go for the new trend which is cool dry material for the more sports polo shirt styles. Many of them feature matching womens polo shirts and some even have matching kids polo shirts so everyone in your organisation can wear the same style personalised polo shirts. Usually decorated with embroidery, our work polo shirts can also be custom printed with your choice of Pantone colours.
Based in Sydney we can deliver all our promotional clothing to all areas of Australia. Major cities like Melbourne, Brisbane, Adelaide, Perth and Hobart are no problem, but we also deliver to all regional points of Australia as well. If you don't find the corporate clothing item you are looking for, then check with our friendly sales staff and they are sure to find what you require. We look forward to supplying your next order.
The Promotional Clothing Team